Mayonnaise
Mayonnaise has become more popular during these days due to their various benefits of it. For example, most of the morning sandwich contains mayonnaise in order to make our sandwich tastier. Most people might think that mayonnaise is made up of milk and butter because of its white and creamy texture but that is absolutely not true. Read our blogs, we will describe a lot about the mayonnaise.
What is mayonnaise made from?
Have you noticed what mayonnaise is made up of? Making mayonnaise is not that easy. Here are some tricks to make it.
Mayonnaise is made up of eggs, oil and acid. Most of the acid that is used in the mayonnaise is vinegar and lime. Before we get to know more about the mayonnaise, let me explain you a little bit of science things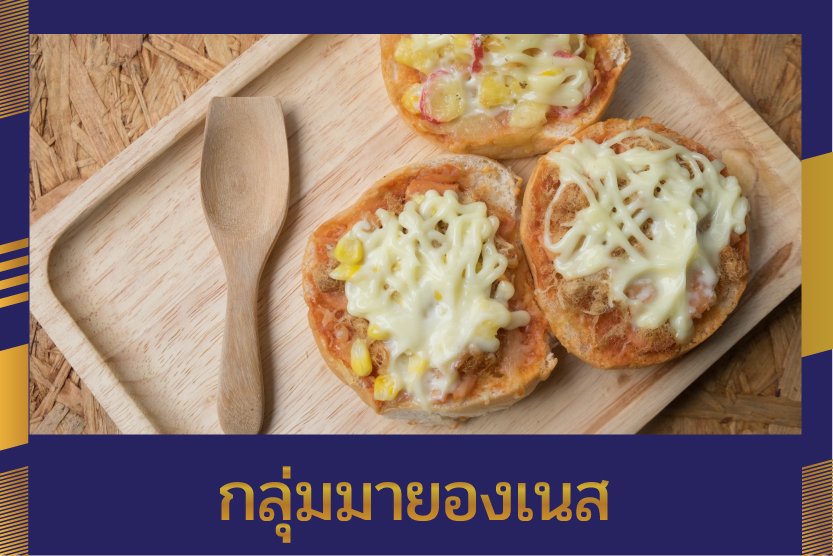 Emulsifier
Emulsifier is a compound substance that helps the texture of the product sustain and not separate from the other. There are many emulsifiers in food but the natural emulsifier which is mainly used in mayonnaise is egg yolk. In scientific terms, the egg yolk is our emulsifying agent.
Emulsification
Emulsification is a mixture of two or more substances together. Normally some of the substance cannot be mixed well together such as water and oil. It is very hard to mix all of them well together. However, in order to mix them well, we need to use the emulsifying agent. As we mentioned earlier, the egg yolk is our emulsifying agent. There is a lecithin in egg yolk. The lecithin helps each substance to mix well together and support the product to be sustained (not separate).
Does mayonnaise contain milk? Is Mayonnaise a dairy product?
What do you think? Can you guess? Why people always think that mayonnaise contain milk? It might be because of the texture and color of it but that is absolute not true. Mayonnaise is not a dairy product. It does not contain any milk.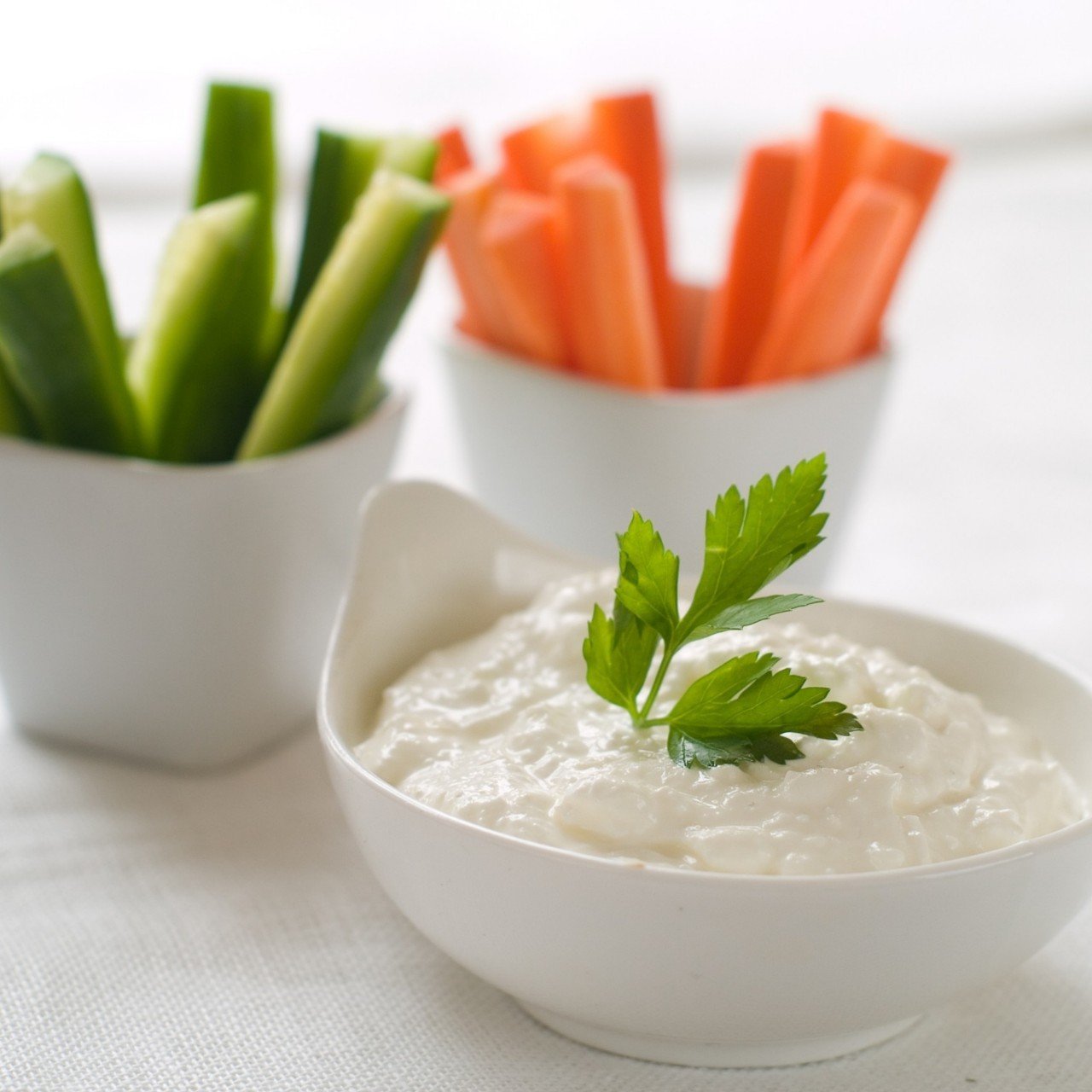 Is mayonnaise vegetarian?
Mayonnaise is categorized to be a vegetarian food because it does not contain any meat but do not forget, it contains egg.
Is mayonnaise vegan?
As we mentioned earlier, the mayonnaise contains egg so it is not categorized as a vegan food.

Wanna make yourself mayonnaise? How to start? Here are some little tricks.
Free Recipe from us!
To start with preparing the main ingredients; egg size 1, water, oils such as olive oil /canola oil / soy bean oil / sun flower oil etc., lemon and salt.

Easy steps
1. Separate the white egg and egg yolk (we only need the egg yolk)
2. Stir the egg yolk and mix with half table spoon of water


3. Mix until egg yolk and water go well together and the texture of egg yolk becomes thicker.
4. During the mixing process, gradually drop 1 cup of oil (you can select your oil)
5. After putting oil together with the egg yolk, pour the lemon juice in
6. Add a pinch of salt then mix all the ingredient together
7.Don't forget you can adjust the taste of your mayonnaise
Mayonnaise can be made up of various of oil however we suggest you to use vegetable oil (refined oil). This is because if we use the unrefined oil such as extra virgin olive oil, your mayonnaise will easily be separated.
Differences between Mayo and mayonnaise ?
They are not difference. Mayo is just a nick name (short name) of mayonnaise.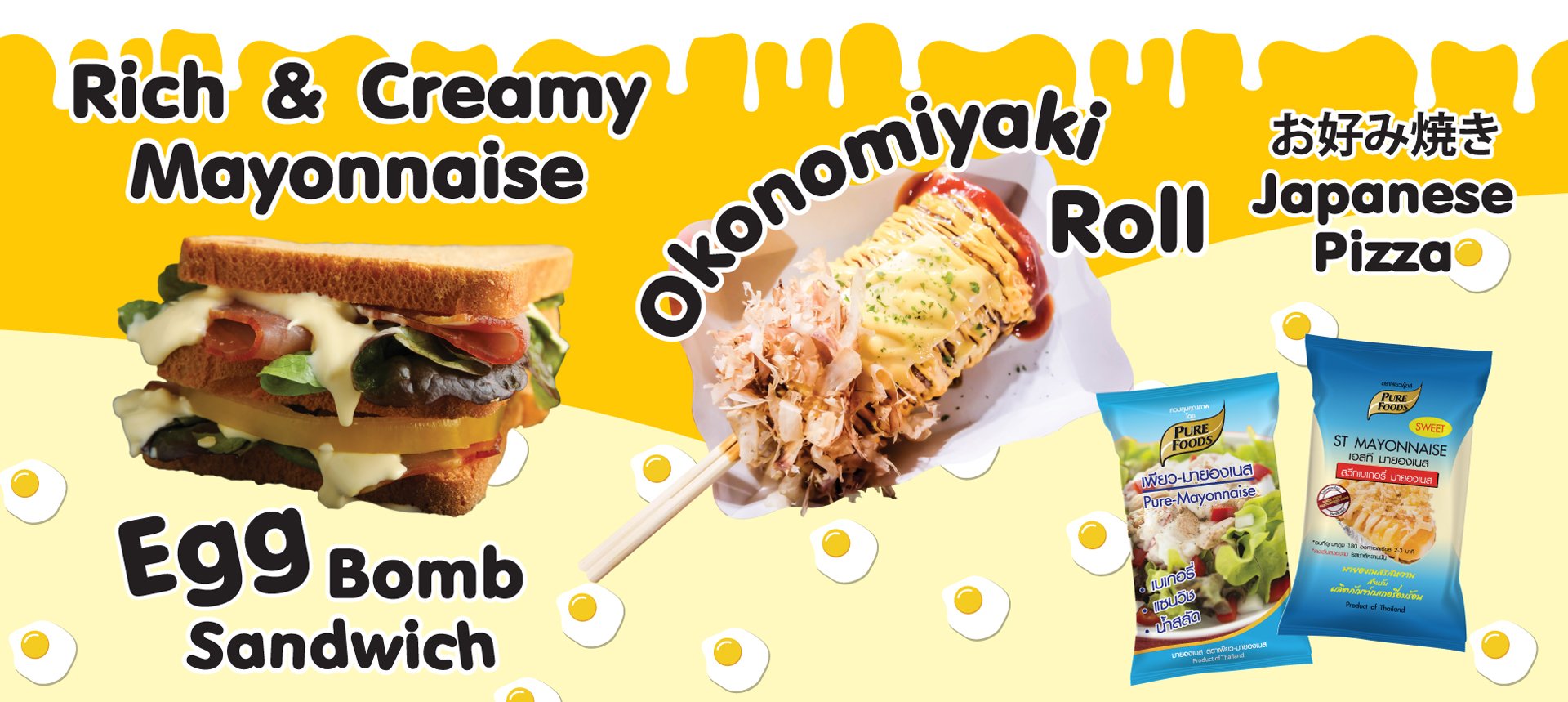 Mayonnaise in each country
Not only European countries that mayonnaise is popular but also Asian countries as well especially in Thailand. Now a day, mayonnaise in Thailand is becoming more uses in various menus.
Starting with Japan
The rice vinegar is widely used to make the Japanese mayonnaise instead of using the normal vinegar. This rice vinegar creates the different taste and flavour of japanese mayonnaise. Japanese mayonnaises are widely used in various menus such as okkanomiyaki (pizza) , tonkutsu (deep fried pork with mayonnaise) , sushi and etc. To compare with Japanese mayonnaise and European mayonnaise, the Japanese mayonnaise are usually softer and creamier than the others.
Russia
Mayonnaise is one of the Russian's favorite condiments. Russian mayonnaise always made from sunflower and soy bean oil. In 2004, there was a report shown that Russian was one of the European people that consumed more mayonnaise compared to ketchup. That was a little surprised. The mayonnaise in Russia is usually used to make the Olivier salad or Russian salad.
Thailand
In Thailand, we always use mayonnaise to cook the Japanese and western foods. During these years, the mayonnaise sales in Thailand are rapidly growth compared with last decades. We always use mayonnaise to top on the pizza, sushi and to make salad dressing. There are many types of mayonnaise in Thailand such as sweet mayonnaise, pure mayonnaise, select lite mayonnaise and cheese mayonnaise. Click here to see the types of mayonnaise and their properties. You'd better select the right mayonnaise for making your food. This could help you making more delicious food. If you select the right function of the mayonnaise.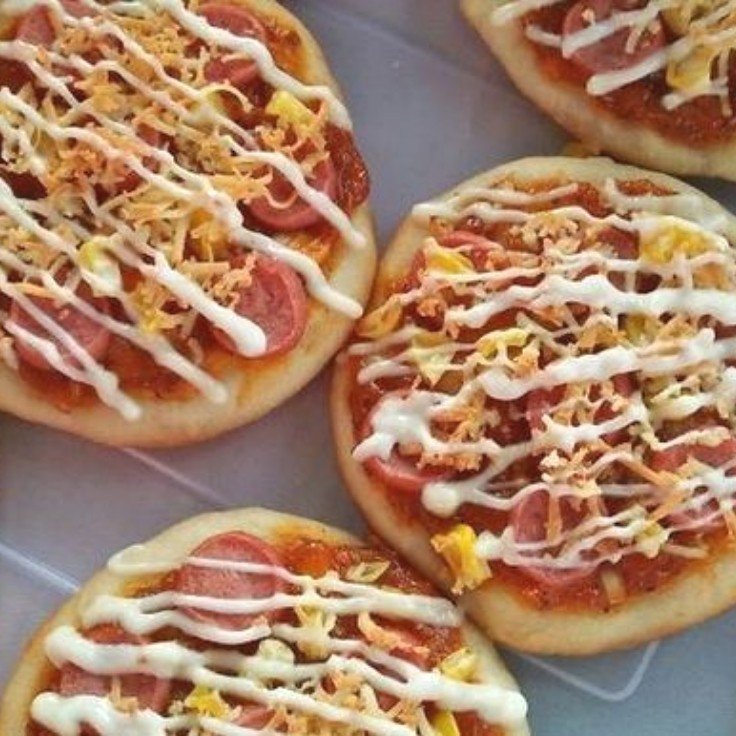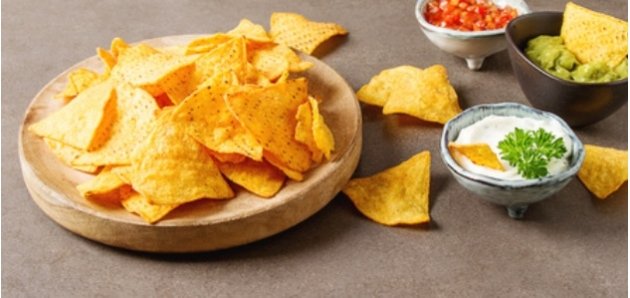 Easy Tricks for making mayonnaise at home!
Not too hurry
Gradually add the oil into the blow. Do not be hurry! Mayonnaise is an emulsion. It needs time to mix oil and water well together.
Be calm
In case, there is a separation in our mayonnaise. Do not be worry. You can take the new bowl and put the egg yolk inside. After that start gradually pouring your own mayonnaise and mix with the egg yolk again.
Food Ideas with your favorite mayonnaise
Fish and Chip with homemade tartar sauce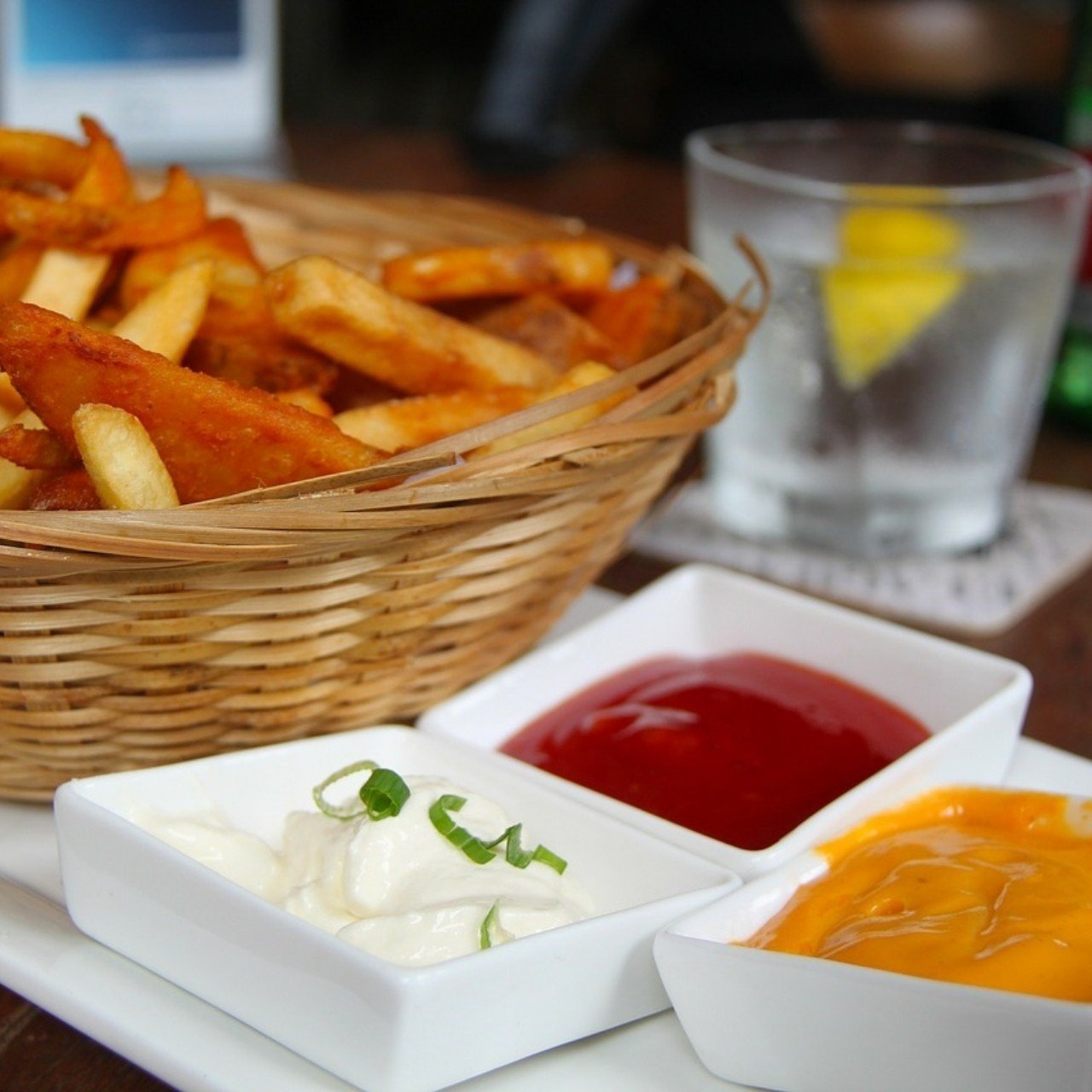 Main ingredient of Tartar sauce
1.PureFoods's real mayonnaise ½ cup

2.Cucumber pickle 3 table spoons

3.Fresh lemon juice 1-1/2 tea spoon (You can adjust the taste you like)

4.Paisley

5.Worcestershire sauce ½-1 teaspoon

6.Mustard ½ teaspoon

7. Salt and pepper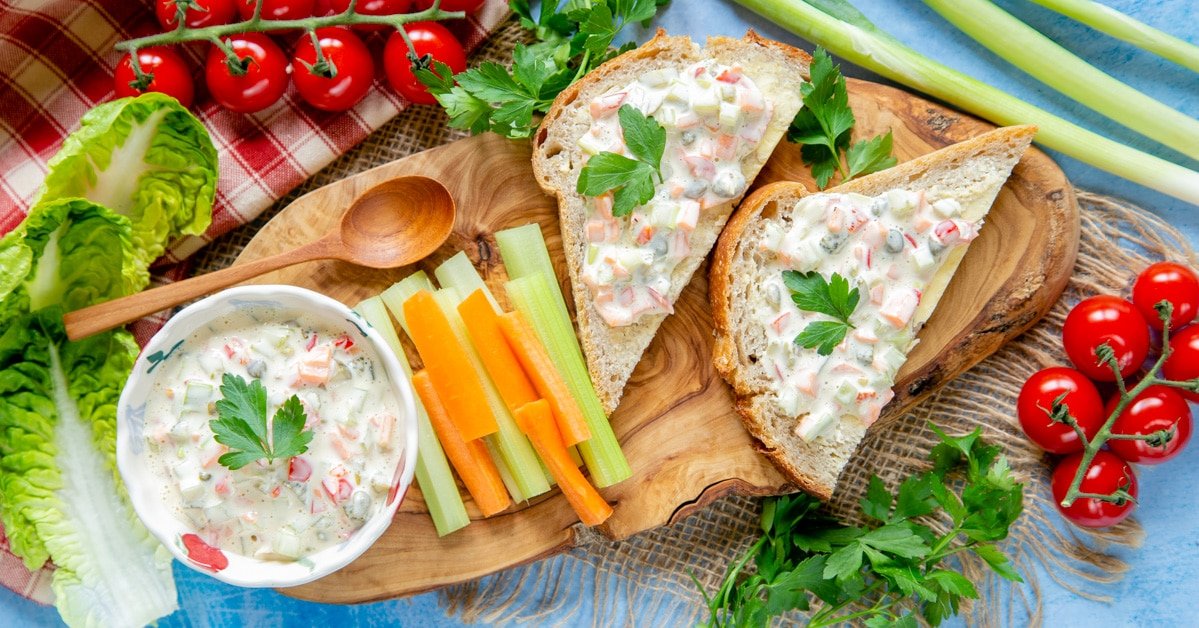 Cooking Tips
1. Mix all the ingredients together. Make sure you select the real mayonnaise because the real mayonnaise gives the creaminess and rich taste.

2.Adjust what you like because it is your tartar sauce's style

3.After finish mixing tartar sauce then take it to the chill and leave it for 30 minutes before eating.
Click here to select your best mayonnaise!

Review Mayonnaise Purefoods Brand
M04 mayonnaise is the premium mayonnaise from Pure Foods Brand. It is suitable for bakery, hamburger, dipping sauce and salad dressing. The texture is viscos, creamy and thick. The taste is a little bit sour and sweet. This is one of the popular Asian mayonnaises. The shelf life of M04 mayonnaise is 6 months at the ambient temperature.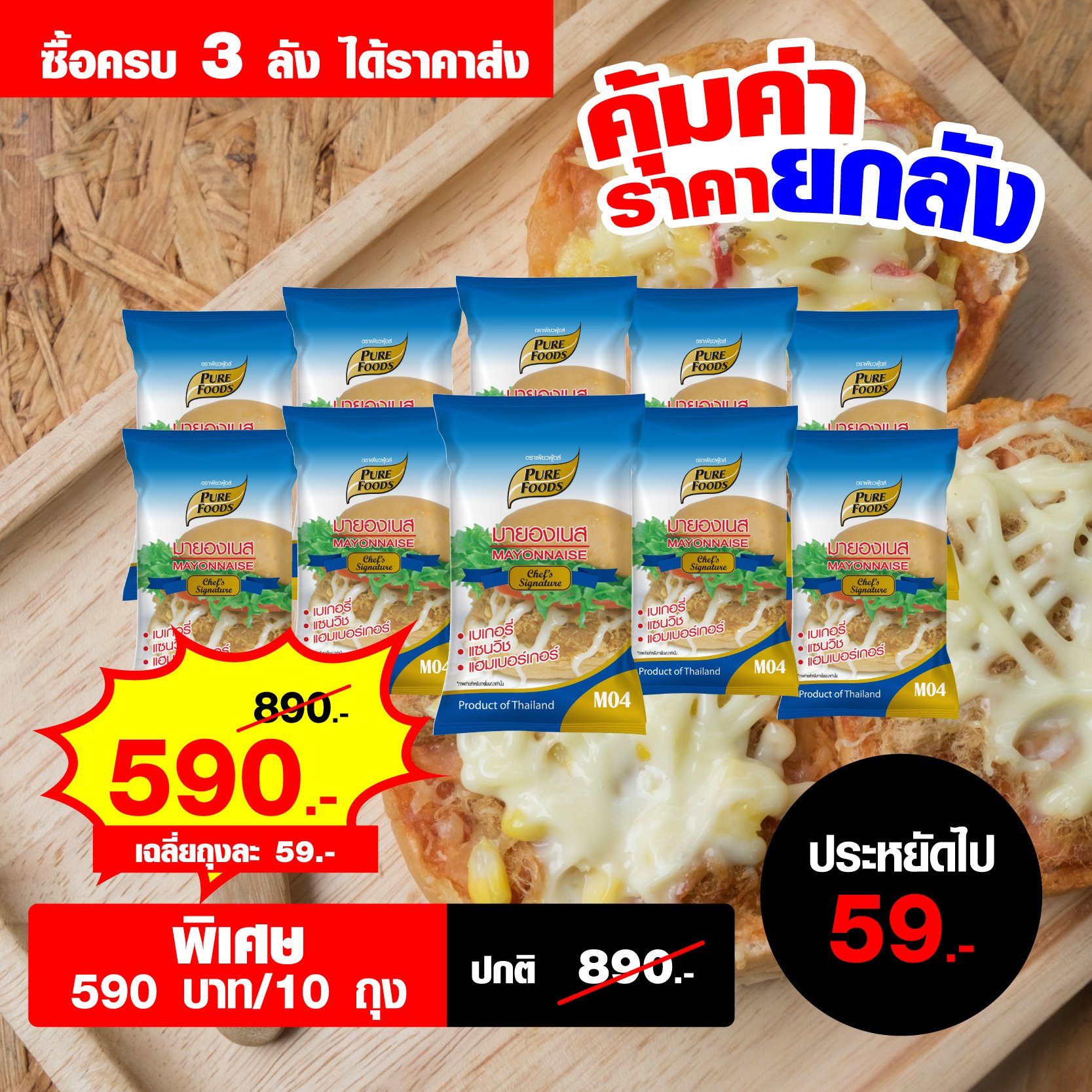 Pure mayonnaise Purefoods Brand is the brand mayonnaise best seller. The price is very competitive compared to the most mayonnaise in Thailand. These Pure mayonnaises have been produced by the certified BRC, GHP and HACCP manufacturers, Purefoods. The taste of this mayonnaise is very suitable for Asian and for cooking the street food. It is perfect for sandwiches, sushi, Takoyaki (the Japanese foods), pancakes and etc. The taste of it is a little sour and sweet at the end. The color is yellow and the smell is like general mayonnaise. The shelf life is about 6 months at room temperature.
Pure Foods Sweet ST mayonnaise is always perfect for the bakery. Our special ingredients are allowed Pure Foods Sweet ST mayonnaise to be heat (oven friendly). This means you can top this mayonnaise on your bread (bakery) and put it in the oven. This is a heat tolerance mayonnaise. After you bake it for about 3-5 mins at 150-180 C, the Sweet ST mayonnaise is still be in a beautiful line topping (similar as your first topping design). There will no separation due to the heat from oven. The taste of this mayonnaise is sweet which help you to boost your taste of bakery. It is also creamy and thick. The price is very competitive. It is perfect for all entrepreneurs who concern about the costing. The perfect taste and suitable quality do not always require the high price.
Cheese mayonnaise is cheese flavored mayonnaise. It is perfect for sandwich's filling, pizza topping and also bakery. These cheese mayonnaises have high level of cheese flavor which will help you enhance your bakery and food flavor. This could help you reduce your real cheese as well to top on your bakery. You can use the cheese mayonnaise and reduce the grams of cheese for you baked products. This helps you to optimize your food cost. Do not worry about the heat concern because this cheese mayonnaise is heat tolerance (oven friendly). Because of the special Purefoods ingredients, when you top the cheese mayonnaise on your bakery and bake it, the line of your cheese mayonnaise will still be remained after you bake it and there will be no chance of oil separation. The suggest baking time is about 3-5 minutes with 150-180 C.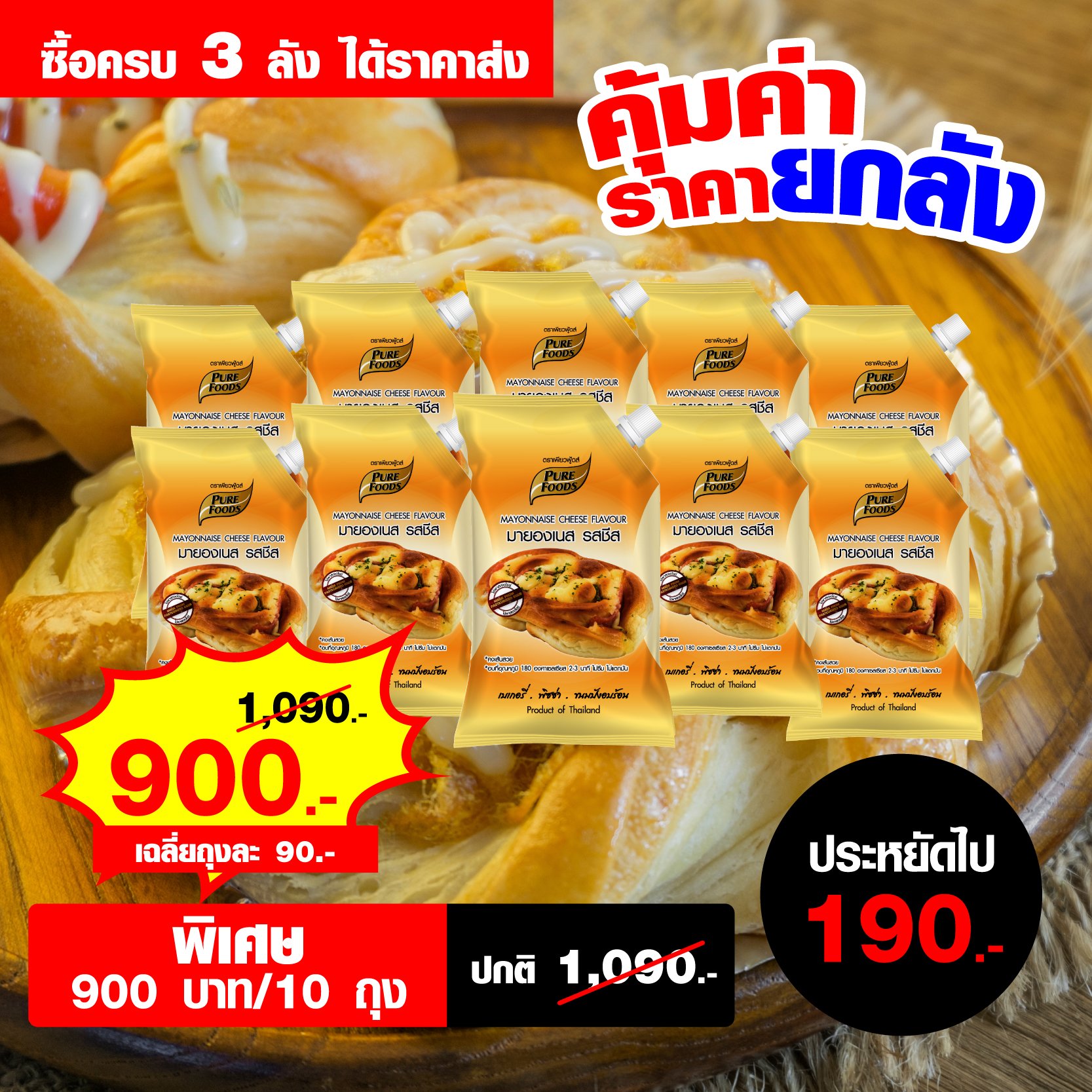 Select lite mayonnaise is best mayonnaise from Cheese To brand. It is perfect for almost cooking such as pizza topping, bakery topping, bakery filling, salad dressing and Japanese food. The price of select lite mayonnaise here in Thailand is very competitive.

Select lite mayonnaise is an oven friendly. It is a heat tolerance mayonnaise. If you top the select lite mayonnaise on your bakery (bread) and when you bake your bakery for about 3-5 mins at 150-180 C, the select lite mayonnaise is still be in a beautiful line topping (similar as your first topping design).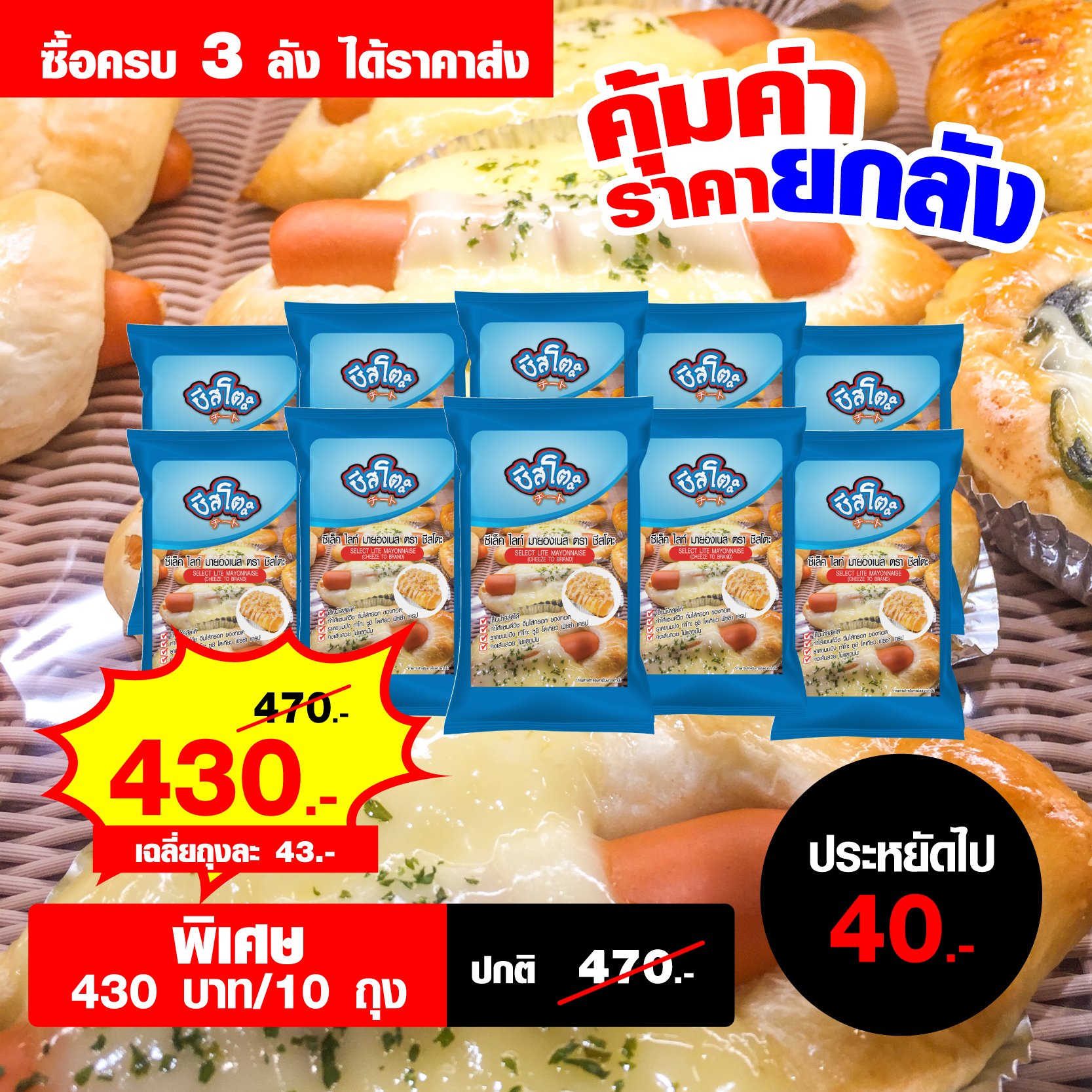 What is your mayonnaise style?